Endelyn is quite happy in her crib. She hasn't even attempted to climb out of it--to be honest, climbing isn't exactly her strongest sport, anyway; she can't even really climb up on to the sofa (what can I say, other than "gross motor skills are not her best?")--but that hasn't stopped me from mentally imagining what her room will look like once she is no longer in the crib.
We have no plans to use a toddler bed. In fact, I specifically bought a crib that did not transition into a toddler bed because I think they are a little... dumb. We have the twin bed that was mine growing up, and plan to let her "transition" into that bed (with a bed rail, of course), but when we make out next Permanent Change of Station (PCS), we will be selling/donating that bed and replacing it with a full/queen size. Some might say that's impractical, but I would like her to have a bed she can use through the years.
I'd love for her to have an iron or brass bed, or something that has a very classically pretty style.
We both really like the look of both of these from Target (really! Target!)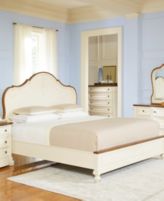 I also really like the look of this one from Macy's

My mom is currently in the process of making curtains for Endelyn's room. They are going to be the plaid of my grandmother's tartan, which is green, blue, black, and purple. I really want to bring out the purple color to "girl-up" the room some.
This is the tartan. I believe the purple in the curtain fabric is a little bit pinker than this is, but it gives you an idea of what we are looking at.
I'd really like to paint her room a color that would be complimentary of those colors--the purple would probably be the easiest, but I am A) afraid that that much of that color would be a little... much. And B) I was hoping to find her a comforter that was that color. Perhaps bringing out the green color in a fresh paint would really make the purple pop... Fortunately, I have no intention of painting any of the walls in our current house, so I have a couple years to think on it. 
I have some gorgeous photographs from when I was at St Andrews, Scotland, that I am going to blow up and frame. I think a nice Victorian-like frame would be nice. I'll also probably go look for something pretty at an antique store to go over her Victorian dresser (which needs some new pulls...).

She also has an antique bookcase that was past down to me from my dad's side of the family. It was originally my great-grandmothers, I believe, so it too is probably Victorian. It needs some work--mostly to be refinished--which I might try to tackle soon.
I guess the theme I am going for is... under-stated Highland estate. I don't think that is probably actually a theme, but it's what I think of when I think of her future room. It'll soften it up with some of her stuffed animals (she has a couple highland cows, some sheep, etc), but I don't want it to be too... Froo froo. I look at some of the little girl room-inspiration on pinterest, but I find them all a little too pink and frilly and princessy.
I'm open to any suggestions or ideas! Please let me know if you find anything Victorian, Scottish, Purple, Plaid, and/or Noble that could go along with my made up theme!
And now I am off to start a pinterest board for just that!